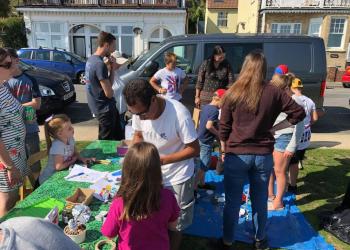 Helping others to become 'plastic clever'
The scheme aims to encourage more people to learn about their environmental impact, take action to reduce it and spread the word on environmental issues.
Four new training sessions for Plastic Action Champions take place at East Suffolk House, Melton and Riverside, Lowestoft starting from Monday 14th October.
Cllr James Mallinder, East Suffolk Council's Cabinet Member for the Environment said:
"We can all help to tackle environmental issues such as plastic waste, starting in our own homes by reducing the amount of plastic we use. However, we can really make a difference by getting whole communities involved.

Becoming a Plastic Action Champion is ideal for those who want to take further positive action and help others within their community to become 'plastic clever' through advice, activities and education. Small changes in behaviour means big differences over time."
The role of a Champion includes volunteering in their local community for a minimum of 20 hours annually. This can include reaching out to local community groups and businesses, exhibiting at local events, blogging about relevant topics, and organising litter picks and surveys.
The training will be provided by the Greenprint Forum and Jason Alexander from Rubbish Walks/Wildlife Gadget Man.
Ongoing training, a comprehensive Plastic Action Handbook, support and travel expenses will be provided through the scheme. Sessions available will take place from:
East Suffolk House, Melton:
Friday 18

th

 October 6pm - 9pm
Monday 28th October 6pm - 9pm
Riverside, Lowestoft:
Monday 14

th

 October 4.30pm - 7pm
Monday 21

st

 October 4.30pm – 7pm
To volunteer as a Plastic Action Champion, please email greenissues@eastsuffolk.gov.uk or register online.
The scheme is part of the Greenprint Forum's ongoing Plastic Action campaign which is part funded by the East Suffolk Partnership and the Suffolk Coast & Heaths AONB Sustainable Development Fund.
The East Suffolk Greenprint Forum is a voluntary network open to all and facilitated by the Council. It aspires to improve the quality of life in the district while reducing the impact on the environment.